Meet the Team
Cinthya Flores, Founder
Message from the founder: Hey everyone, my name is Cinthya Flores and I'm happy to introduce you all to the women of Utz Threads. I'm from the San Francisco Bay Area, I have a love for social entrepreneurship y muchas ganas de crear communidad. I'm the daughter of immigrants, a culture lover, a traveler, an adventure seeker and a lifelong learner. In 2017, I moved to Guatemala with the intention of using my Social Work and business background to support the weaving coop through business development. I firmly believe in the power entrepreneurship has to help people help themselves. I mean, I saw it my whole life through a line of mujeres emprendedoras y luchonas!

I started the U.S. arm of sales for the weaving coop, Utz Threads, in 2018 and have been very intentional about serving as a bridge in support of the women's growth. De eso nacio Utz Threads! We're more than just a product, we're a group of women building together to create something bigger than ourselves using our strengths, our ganas and our resourcefulness. So thank you desde ahorita for your supporting!
Production Manager, Olga Cumatz

Olga Cumatz is a Maya Kaqchikel woman with years of experience working in community and women's development. She firmly believes that women's economic autonomy is achieved through active participation, positively influencing the development of communities, equal rights and opportunities. Olga says "I am very grateful to Utz Threads for giving me the opportunity to be part of their great family. I identify with their vision, join their energies and challenges in building alternatives for and by women."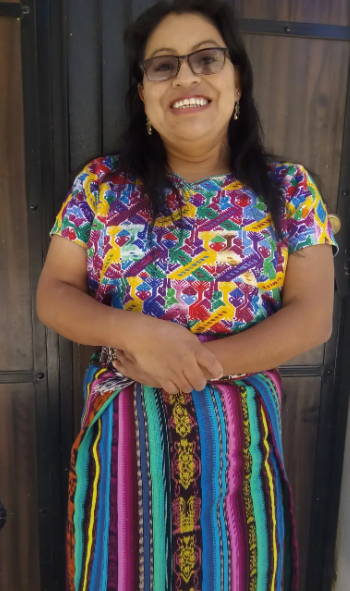 Production Manager: Eduardo Aquino
Eduardo is a language junkie and entrepreneur who was born and raised in dreamy Antigua, Guatemala. He studied 4 other languages, Sociology and recently obtained a Bachelor's in Business Administration. He has a special interest in K'iche' religion and mesoamerican history, which is what led him to live in Chichicastenango, the mountainous region where the women are located. He was contacted by the cooperative in late 2016 as a consultant, and then assisted with the foundation of Utz Threads as a U.S. based brand. His goal is to be a part of creating more international visibility for Utz Threads and establishing a link to foreign markets.
Storyteller: Elena Laswick
Elena is a native Arizonan who has been based out of the remote Ixil <E-Sheel> region of Guatemala for the past three years. This region in particular captivated her because of its relative seclusion, natural beauty and woven wealth. So although she originally moved to Guatemala to work for a local social business, she stayed for the textiles and the people. Besides being passionate about supporting indigenous women and traditional techniques, Elena also enjoys painting, spending time with her parrot, snake and cat (although not all at once), traveling and discovering really good music. Elena has a BS in Biology with a minor in art and art history from the College of William and Mary in Virginia. However, she has been volunteering and working in the development sector since 2011, with a focus on marketing and communications for several different Central American NGOs and social enterprises.